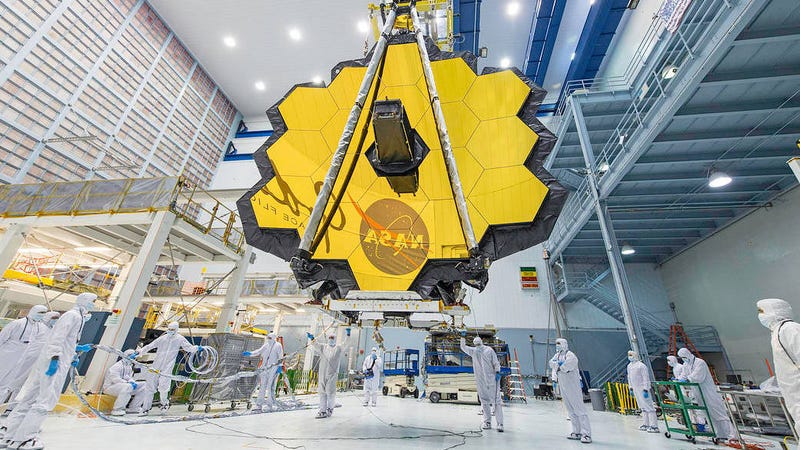 The Hubble Space Telescope is incredible and has done some truly remarkable science, but it's getting old. After all, it was launched in 1990. Taking its place is the James Webb Space Telescope, an $8 billion-plus experiment that was scheduled to launch in October 2018.
Today, NASA announced in a press release that they'd be pushing the launch of the telescope back to Spring of 2019 from French Guyana. They claim the reason is not "indicative of hardware or technical performance concerns," but rather, "the integration of the various spacecraft elements is taking longer than expected," Thomas Zurbuchen, associate administrator for NASA's Science Mission Directorate at Headquarters in Washington, said in the release.
In other words, it's taking more time to put together than they thought.
The James Webb Space Telescope is supposed to be awesome. Specific science goals include peering into the distant universe to capture the light from the first galaxies and stars, comparing the oldest galaxies with galaxies today, looking through dust clouds invisible to Hubble to see stars form, and even studying the atmospheres of planets outside the solar system.
These images and data will be both incredible and useful for scientists trying to understand who we are and how we got here on the grandest scales.
The change in date came after a "routine schedule assessment" reviewed all of the tasks remaining plus other factors, mentioning that the spacecraft "has experienced delays during its integration and testing at Northrop Grumman in Redondo Beach, California." They mention that, on the bright side, they'll have more time to test it (although that shouldn't be necessary if there are no hardware or technical performance concerns, right guys?).
We've reached out to NASA for comment.
The release says that the existing budget accommodates for the change in date, so we'll just have to wait a little longer for some dank new space pictures.